When we are told we won't be seeing each other for at least another 10 days. Doesn't seem right. I don't understand. @johnnygweir @taralipinski by @taraandjohnny
---
ICYMI: Our beloved Glitter Twins—with Auntie Andrea Joyce sitting in for Uncle Terry—covered the Four Continents Championships over the weekend. Here's a recap in Instagrams and screencaps, plus video of their commentary below! More video coming soon.
---
In honor of 4CC's host city of Taipei, Johnny was resplendent on the air in this gorgeous handmade jacket that was a gift from his beloved Chinese fans:
Look of the Day: Jacket Chinese Fans Leathers @garethpugh Loafers @louboutinworld Hair @mariolazysk by @johnnygweir
Back at it ⛸ @johnnygweir @andijoyce by @taralipinski
How we roll. @taralipinski @taraandjohnny #YouAreDelightful by @johnnygweir
Tara and Johnny today at the NBC studio! by @mariolazysk
#JohnnyWeir is channeling Klaus Nomi today! #itsatotaleclipse by @knittingprose
---
SCREENCAPS
---
VIDEO!

Men's short program.
Han Yan 3:00
Shoma Uno 8:25
Max Aaron 13:10
Boyang Jin 17:00
Patrick Chan 21:50
Video link.

Ice dance.
Shibutani / Shibutani 0:30
Weaver / Poje 6:50
Chock / Bates 13:10
Video link.
(ShibSibs-only video is here)

Gracie Gold's free skate.
Video link.

Ladies' free skate.
Mirai Nagasu 0:01
Kanako Murakami 6:35
Rika Hongo 12:20
Satoko Miyahara 18:45
So-youn Park 25:30
Video link.

Men's free skate, aired on NBCSN last night at midnight (Oh NBC. What are you doing.) with commentary by Johnny and Andrea Joyce.
Max Aaron 1:30
Shoma Uno 6:47
Yan Han 13:05
Takahito Mura 19:35
Jin Boyang 26:15
Patrick Chan 32:50
With bonus Alexa Scimeca / Chris Knierim at 40:35
Video link.
---
BONUS PICS
Screencap of Johnny's brief cameo in the Zoolander 2 closing credits thanks to @mashakaklim on Twitter!
@JohnnyGWeir YES! I saw you in finish #ZOOLANDER2 ! It was beautiful flash! #JohnnyWeir by @mashakaklim
Congratulations to Johnny for another Top 5 finish in Out Magazine's Top 100 Most Eligible Out Bachelors: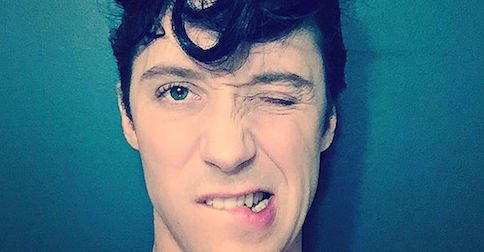 CONGRATS @JohnnyGWeir, you're one the Top 10 #OUTBachelors: http://bit.ly/1RiP0tz by @outmagazine
And happy, happy birthday today to the amazing Elena Vasileva!
Happiest of birthdays to my very dear friend & brilliant @johnnygweir photographer @elle_velle!! Wishing you strength, peace, joy, and so much love in the coming year. Thank you for all the breathtaking beauty you bring to this world through your lens and your heart… ❤❤❤ #happybirthday #love #photography #figureskating #johnnyweir #snowkingbyplushenko #snowking #снежныйкороль2 by @misfitmimes
---
SEE JOHNNY SKATE! Johnny is headlining the Art2Skate 2016 Spring Ice Show hosted by his home rink, The Skating Club of Wilmington, April 15 and 16. Tickets are already going fast, so please be sure to get yours ASAP!
Image via Johnny's official website.
---