Johnny and Tara skating together for the first time ever in Florida earlier this week. Via hair and makeup artist Meg Titus.
---
So the first hint of the latest chapter in our ongoing travelogue, Tara and Johnny Take Over the World, was this tweet from Johnny on Monday (well, technically this one on Sunday, although we didn't realize that at the time…):
Off to Florida to join @taralipinski for a working romp. @TaraandJohnny #taraandjohnnytakeflorida

— Johnny Weir (@JohnnyGWeir) February 29, 2016
Followed shortly by a Rio throwback from the @TaraandJohnny Instagram…
From Rio where @johnnygweir was just watching out for me with his handy fan. About to take on another hot place this week! 🔥See you in an hour J….can't wait!!! ~T #TaraAndJohnnyTakeFlorida @johnnygweir by @taraandjohnny
…one surly tweet from Johnny while en route…
Really despise when people call me "buddy".

— Johnny Weir (@JohnnyGWeir) February 29, 2016
…and then radio silence until Tuesday morning, when highly anticipated shenanigans ensued.
But before we dive into those, we have IMPORTANT NEWS: Johnny's home rink, The Skating Club of Wilmington, has just added a "Meet-n-Greet With Johnny Weir" to the weekend of their Art2Skate show in which Johnny is starring! From their website:
The Skating Club of Wilmington is pleased to host a "Meet and Greet Johnny Weir" breakfast on Saturday, April 16, 2016, in the board room of the Skating Club. A breakfast buffet featuring delicious homemade breakfast foods will begin at 9:30am.

Johnny will be joining us for a Question & Answer session, as well as giving guests an opportunity to take photos with him and get autographs.

Cost: $50 per person.
$25 is a charitable contribution.
RSVP by April 10 to the skating office at 302-656-5005.
Tickets are limited, so please call now to reserve yours! And please check back here often, as this post will be updated with additional Florida follies as they happen.
---
FLORIDA!

Tuesday.
Good morning…Here we go! I think you guys are gonna like what we have up our sleeves! @taraandjohnny @johnnygweir by @taralipinski
Apparently the first thing up their sleeves was a basketball, which for Johnny could only be used balletically.
Swish!! 🏀 @taralipinski @johnnygweir #TaraAndJohnnyTakeFlorida by @taraandjohnny
Then they were off to the Panthers IceDen for skating and photos with dazzled young fans.
It's celebrity week here at @panthers_fsc! #johnnyweir #taralipinski by @cailey_weaver
Soo we just met Tara Lipinski And Johnny weir?!😍😍😭😭 by @isa.vandy
Shockingly, today was our first time skating together! ❤️ @taralipinski @taraandjohnny by @johnnygweir
Signing autographs at the rink. Exclusive photo courtesy of Coa Coa Barnett.
Exclusive photo courtesy of Coa Coa Barnett.
Omg 😱😱 I just met Tara and Johnny #olympians by @superskater999
Сбылась мечта идиота😊 Джонни Вейр, моя давняя любовь 😊😊😊 by @brilliantova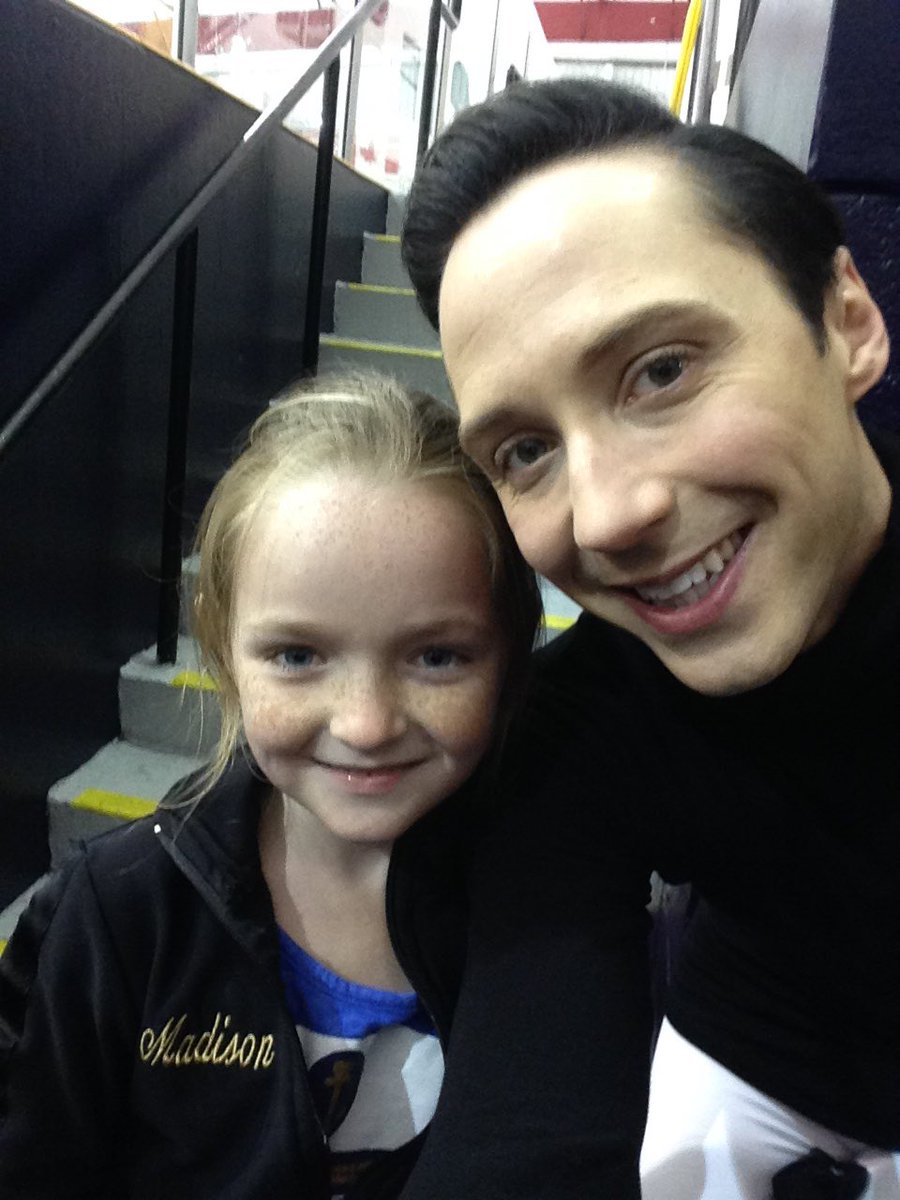 johnny weir Thanks for taking the time for some of your younger fans that want to follow the artist of the ice. by @medchix
Exclusive photo courtesy of Coa Coa Barnett, pictured here with Johnny. She writes: "In 2011, I was going to go to Orlando for the MAC Cosmetics launch, but I broke my hand playing volleyball on the beach and ended up in surgery instead. So I have waited a very long time to meet Johnny. The jacket I'm wearing is his from the Vancouver Olympics, which I bought during his eBay auction. He thanked me several times for buying it! He was as nice as everyone says and made sure everyone got a photo or autograph. Tara was also very nice. As everyone says, he is such a class act!"
I love the caption on this one.
Day 25 of #30dayfunchallenge (round 3) I got a chance to spend a day with these beautiful people! So talented and wonderful. I took this photo of them and Johnny put it up and gave me credit on his instagram :) I really admire the dedication and sacrifice it takes to do what they do. It was also amazing seeing all the kids in the rink and their eyes lighting up and their jaws drop. Fun moment, fun ass day! by @kolored
---
Wednesday.
We begin with one more skating pic, and then singing, rapping, airboating, screaming, and still looking amazing at day's end.
What up Wednesday 👯 @johnnygweir #TaraAndJohnnyTakeFlorida by @taralipinski
The spirit is in me🎙Filming, sound, and cinematography by @taralipinski by @johnnygweir
Mom was psyched to run into figure skating legends @taralipinski and @JohnnyGWeir by @allisonmlewin
Slinging rhymes 🎤 @taralipinski @johnnygweir by @taraandjohnny
Throwin shade @johnnygweir #everglades #florida #sunset #gaters #shades #friends #setlife #hairandmakeupartist #eastcoastvibes #onanadventure by @megtitus
Hold your ears. Us on an airboat going far too fast, with 🐊 nearby. #taraandjohnnytakeflorida by @taraandjohnny
You, me, we, us. @taralipinski @taraandjohnny #taraandjohnnytakeflorida by @johnnygweir
---
UPDATE!

Thursday.
Mommy x alligator #TaraAndJohnnyTakeFlorida @taralipinski @johnnygweir by @taraandjohnny
Beachy. @taralipinski @taraandjohnny Photo @megtitus by @johnnygweir
And also:
Funny Fact about Florida. Whenever we try to use a location for shooting, the initial reaction is, "you're not shooting a porno right?"

— Johnny Weir (@JohnnyGWeir) March 3, 2016
My partner in crime is bringing out his inner rapper today and he's lookin' flawless #Lace ~ T @johnnygweir @taralipinski #TaraAndJohnnyTakeFlorida by @taraandjohnny
IDEK.
Turnt raspberry. @taralipinski @johnnygweir by @taraandjohnny
Awwwww. ♥♥
When you work with someone you love, it's never work. @taralipinski @taraandjohnny by @johnnygweir
---
BONUS PIC
Johnny poses for a photo last weekend while in Pennsylvania.
Johnny was awesome and so gracious to indulge us. Gotta love West Chester! #wishyouweirhere by @allisonbarto
---
RANDOM BONUS VIDEO
Another vintage video, just uploaded this week! He is adorable in the kiss-n-cry.

Video link.
---
SEE JOHNNY SKATE! Johnny is headlining the Art2Skate 2016 Spring Ice Show hosted by his home rink, The Skating Club of Wilmington, April 15 and 16. Tickets are already going fast, so please be sure to get yours ASAP! And as noted above, they've now added a Saturday morning meet-n-greet with Johnny with a limited number of tickets. More info here!
Image via Johnny's official website.
---
Special thanks to Coa Coa Barnett for the exclusive photos!
---