Thanks for the memories Rio. Thank you @taralipinski for making dreams come true. 🇧🇷✈️🇺🇸 @taraandjohnny by @johnnygweir
---
FINAL UPDATES! Scroll down for tons of new photos and screencaps, fab new VIDEO from their weekend appearances plus bonus behind-the-scenes footage, their latest Snapchat and Facebook Live sessions, goodbye video from Rio, and the newest Tara and Johnny podcasts from Rio: Episode 6 and BONUS Episode 7!
---
Tara & Johnny preparing to go on the air to discuss their adventures in Olympic fencing (video below!). Via Tara's Instagram.
---
OK! The Summer Games continue to grind on in Rio (see previous coverage here and here) with far less Johnny & Tara in primetime or commenting at any time than we would like (yes, NBC, we would indeed tune in at 2 am if it meant getting their live take on ANY sport or really anything at all), and which has left us certainly congratulating all the incredible Summer competitors but also checking our watches and calendars to see when, exactly, does figure skating season start and is it time for the Winter Olympics yet . . . ?
Clearly in tune with our late summer ennui, Johnny tweeted last night:
Me and @taralipinski are loving the "Commentate everything!" messages and we are studying hard! Figure skating is our heart song. ❤️

— Johnny Weir (@JohnnyGWeir) August 17, 2016
Only 77 weeks until @2018PyeongChang. Get ready kids, winter is coming! #Rio2016 #Olympics

— Johnny Weir (@JohnnyGWeir) August 17, 2016
Counting those weeks down starting right now.
Meanwhile, there was a bit of a kerfuffle over the weekend in which Johnny posted a masterful takedown of an online bully on his Instagram Saturday night and broke the Internet:
This message was sent to me today. I don't feature being called a "faggot". This has to stop, this jealousy and hatred from within my own community is stunting our growth. I wear the clothes that I like and clothes that entertain which is my job. At home, I am not this person⬆️. I can wear whatever I want because I can. If you aren't interested in me stop following me. I work on television, fly around the world all year to different events. What do you do Gary? I gain strength from these messages. Be smart and stronger people. Nothing matters but YOU. #armyof1 by @johnnygweir
As always, the post also appeared on his official Facebook page, where it gathered more than 1,000 likes and 700 comments overnight, and was shared by hundreds of people, including me. Then Sunday morning I woke up to this message from Facebook:
Yes, Facebook in its infinite wisdom had deleted his powerful anti-bullying / anti-hate speech post "because it doesn't follow the Facebook Community Standards." SERIOUSLY, Facebook??
Though the post remained on Instagram. Which Facebook owns.
Fortunately it was reposted to his official page and remains up as of this moment. And the original post on Instagram had attracted a great deal of attention by Monday morning, resulting in multiple articles in major media including Yahoo, People, and USA Today.
The two best reads:
From the Houston Chronicle: Former Olympian Johnny Weir Is Not About to Let a Stranger Named Gary Ruin His Fashion Game
From Mic: Johnny Weir Boldly Claps Back at Internet Troll Who Said He Was a "Bad Drag Queen". This writeup went viral on Facebook and made Johnny a top trending topic for more than 24 hours:
And also garnered plenty of reaction on Twitter, the vast majority along these lines:
I think "What do you do, Gary?" might be my new favorite phrase, @JohnnyGWeir. https://t.co/Qeo9HjzOXT

— Joseph Lamour (@lamour) August 16, 2016
And thus a hashtag and a meme were born:
MAN, do I hate a bully. #whatdoyoudogary #Rio2016 #johnnyweir @taralipinski @JohnnyGWeir by @planetevie
@JohnnyGWeir @misfitmimes #whatdoyoudogary by @lilrenegade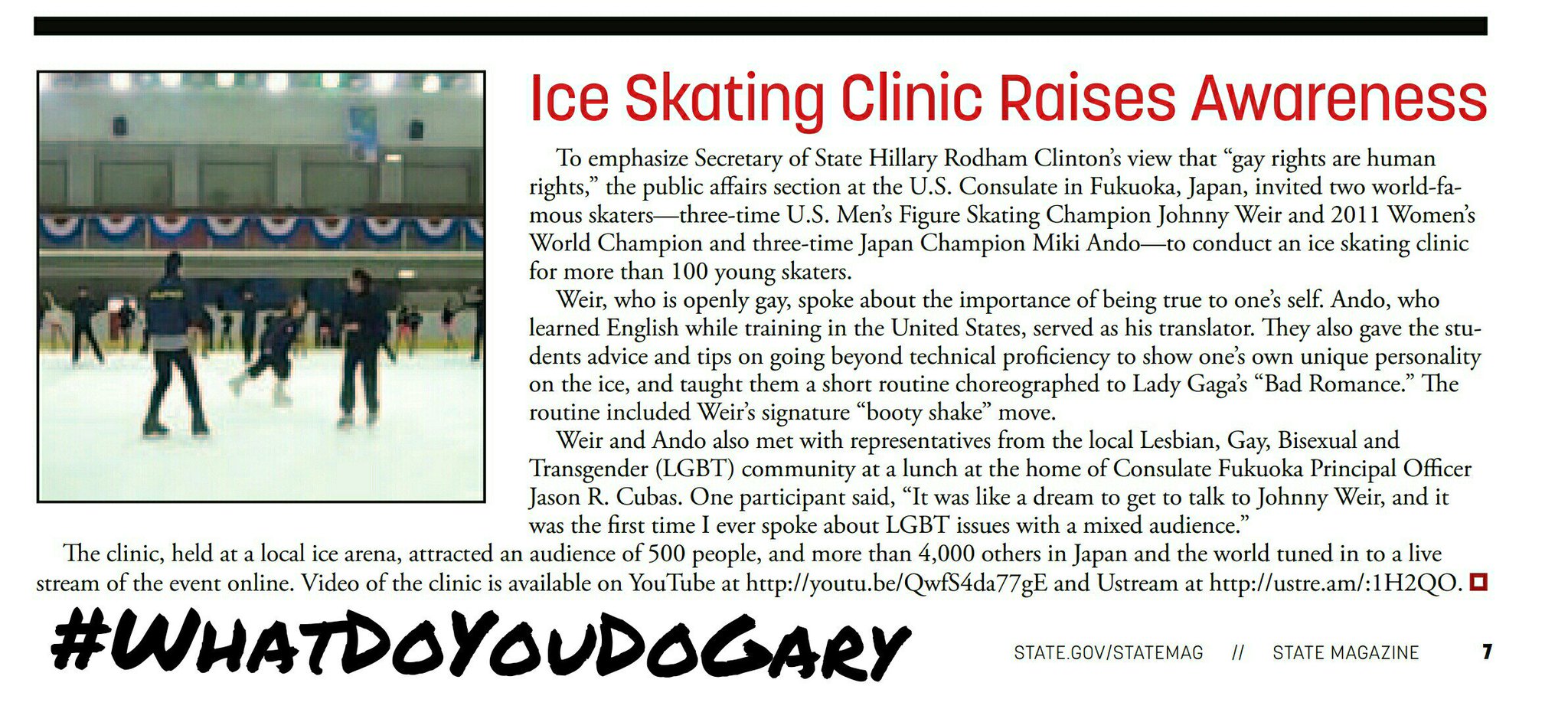 .@JohnnyGWeir http://bit.ly/2aWTB8q #WhatDoYouDoGary by @jekitten
#WhatDoYouDoGary @JohnnyGWeir by @misfitmimes
Johnny addressed the post in his excellent InsideSTL interview on Tuesday. An excerpt:
As somebody who's dealt with death threats and threatening messages and bullying my whole life, being an Olympian — or not being an Olympian, even now I continue to deal with it — basically it's people that are jealous or people that are upset and hide behind a computer screen to get — to feel better about themselves and their own lives. I actually posted something the other night quoting a gentleman who wrote me a terrible message with a lot of gay slurs . . . and I took a piece of it and posted it because I read a story on my social media feed about a young 13-year-old boy in New York who had written up this suicide letter and hung himself because of bullying at his school. And I thought, "You know what? If I had been a young person and dealt with that and I was feeling those kinds of emotions, I would almost want to know that somebody in the public eye, whether it's Johnny Weir, Gabby Douglas, or Kim Kardashian, whoever it may be that I look up to, I would want to see that they deal with it too, so I wouldn't feel so alone and so isolated."
Listen to Johnny's entire interview below, or on InsideSTL's website. His portion begins at about 38:00.

Alternate link.
And last night he tweeted his gratitude for the tremendous outpouring of support his post has received:
Thanks everyone who's supporting my anti-bullying stance. It isn't about me, it's about the children. Be strong guys, you can do it, like me

— Johnny Weir (@JohnnyGWeir) August 17, 2016
---
MEANWHILE, IN RIO
Back at the Games, Johnny & Tara are still killing it, as noted by Yahoo here and here and also evident in the synchro video below. Also they need your help with podcast guest suggestions:
We're brainstorming guests for our final podcast from Rio and the only name we have agreed on is @potus. @NBCOlympics #Olympics 🇺🇸

— Tara and Johnny (@TaraandJohnny) August 17, 2016
We now continue our regularly scheduled slayage coverage as Johnny & Tara head into the final days of their Rio adventures. Please see this post and this post to catch up on anything you might have missed, and please check back here for updates throughout the rest of the week!
---
Sunday shenanigans.
In the studio NOT recording my debut album, just flaunting my @amorireyewear pearly whites…❤️ by @johnnygweir
She had no idea…@adele takes us right to our happy place. @taralipinski @johnnygweir by @taraandjohnny
Mall Walker. @nike by @johnnygweir
Monday at the IBC.
We ran into @NBCOlympics commentators @taralipinski @JohnnyGWeir at the IBC – w/@thetopstoryWYFF @BrianNealNews by @traverswdsu
Monday morning glam to go live on the air. Video below!
Look of the Day: ONESIE @motoguo BRACELET @ericksonbeamon WEDGE @rickowensonline HAIR @mariolazysk FACE @alexisdaymakeup by @johnnygweir
@mariolazysk is a genius artist and you'd be lucky to have her do your hair. She is a true hair Queen. ❤️ by @johnnygweir
Monday evening glam to go live with Ryan Seacrest on Olympic Late Night. Video below!
Look of the Eve: JACKET Vintage SHIRT @andrewmorrisonstudio PANT @yohjiyamamotoofficial NECKLACE (as belt) @31philliplim SHOE @maxmara HAIR @mariolazysk FACE @luciamua76 by @johnnygweir
Tuesday early a.m. ready to go on the air.
Tune in and catch @katieledecky @JohnnyGWeir @taralipinski on #OlympicLateNight with @RyanSeacrest. 12:35am EST by @NBCOlympics
We met @kledecky and her five medals!🏅Now it's time for OlympicLateNight with @ryanseacrest 📺💃🏼🌊🌴 by @taralipinski
Live on the air!
We love a visit with @ryanseacrest. @taralipinski @taraandjohnny @nbcolympics by @johnnygweir
We ❤️ @ryanseacrest. @nbcolympics by @taraandjohnny
Wednesday video alert.
Wait for it…we are trying a new sport today and it's not fencing! Video coming soon @taralipinski @johnnygweir by @taraandjohnny
Aaaaaaand the promised video! Literally laugh-out-loud funny. And proves that these two can successfully commentate ANYTHING. #synchronized_sass #theywerecapless
Synchro 🏊🏊 @taralipinski @johnnygweir by @taraandjohnny
One of our greatest gifts is making other public swimmers uncomfortable. #AdultSwim #olympics @taralipinski @taraandjohnny @nbcolympics by @johnnygweir
Matching Heart Shower Caps ✔️This is how we synchro swim. Check out @taraandjohnny to see video. 🏊🏊 #AdultSwim Suit by @trinaturk by @taralipinski
NEW! Thursday morning glam. For the golf course, obvs.
Look of the Day🏑: JACKET @andrewmorrisonstudio SHIRT Vintage SHORT @isetanmens NECK @ericksonbeamon SHOE @chanelofficial BRACELET @hermes HAIR @mariolazysk FACE @alexisdaymakeup by @johnnygweir
Just two crazy birdies with a bird's eye view. ⛳️ @golfchannel Shoes @stevemadden by @taralipinski
Oh ya know…just watching golf. @taralipinski @taraandjohnny @nbcolympics @golfchannel by @johnnygweir
Live on the air commentating golf with Uncle Terry. Video below!
Don't usually have open auditions on air, but @taralipinski @JohnnyGWeir w/ unparalleled perspective on golf! by @gilcapps
We were beyond pleased to visit our broadcast partner Terrence at his day job. @taralipinski @taraandjohnny @nbcolympics @golfchannel by @johnnygweir
Join us at 12 ET for a live chat on @facebook on the @nbcolympics Facebook page. Can't wait! by @taraandjohnny
Thursday afternoon glam for another Facebook Live chat. Video below!
Look of the Afternoon🍌: NECKLACE @ericksonbeamon SHIRT @acnestudios PANT @adriennelandau @saulovillela SHOE @rickowensonline HAIR @mariolazysk FACE @alexisdaymakeup by @johnnygweir
My obsession with @tealhousecollection jewelry (earrings ➡️) continues…Johnny is clearly crazy for them too. by @taralipinski
NEW! Friday morning glam. Perfect for watching the men's platform diving final, which Johnny live-tweeted.
Look of the Day: TOP @yii_o PANT @unitedarrows_official SHOE @nike BRACELET @joomilim HAIR @mariolazysk FACE @alexisdaymakeup by @johnnygweir
Really going to miss seeing what the amazing and very talented hairstylist @mariolazysk does to Johnny's hair everyday during the Rio 2016 Olympics!!!! Also going to miss seeing @johnnygweir with his fabulous outfits, shoes and jewelry!!!! ✨✨✨ #johnnyweir #rioolympics2016 #usa🇺🇸 #brazil🇧🇷 #funtimesinrio by @dianemellina
5 Olympics & 4 Olympic gold medals between these 3! 2x #Rio2016 🏅 medalist @tianna.bartoletta poses with @taralipinski & @johnnygweir while making the rounds on her media tour! #USATF #olympics #track #tracknation #trackandfield #readysetrio by @usatf
I'm normally not star struck but this is the icing on the Olympic cake for a former ice skater. If only I looked as fabulous as @johnny_weir and @taralipinski by @mdorlon
Woah….I audibly shrieked a couple times because the divers heads got soooo close to the platform. 🙈 by @taralipinski
Sneak peek of their "Day in the Life" piece from Friday evening's Olympic Zone. Video below!
Tonight on Olympic Zone- we spend the day w/ @taralipinski @johnnygweir from wakeup to bedtime…this brand-building duo is as interesting as they are funny…see you soon! @nbcolympics by @jillmartin
Friday night glam: Johnny's final Rio ensemble for his live appearance on Ryan Seacrest's Olympic Late Night show. Olympic rings IN HIS HAIR.
Rio Final Look: JACKET & BELT @andrewmorrisonstudio SHIRT @thamanyah_official SHORT vintage WEDGE @chanelofficial OLYMPIC RING HAIR @mariolazysk FACE @alexisdaymakeup by @johnnygweir
In the Green Room with Dhani Jones waiting to go on. Video below!
Time to tune into #OlympicLateNight with @ryanseacrest ……in the pouring rain 🌊☔️ by @taralipinski
Live on the air!
Had the best time closing out our time in Rio with @ryanseacrest. @taralipinski @johnnygweir @nbcolympics by @taraandjohnny
We ended #Rio2016 with a @ryanseacrest party….and it was the perfect way to say goodbye. 👋🇧🇷💃🏼 by @taralipinski
Love this clip. Full video below!
that's a wrap!! Thx @taralipinski @johnnygweir @d0057 @carolynmanno and the whole crew #OlympicLateNight by @ryanseacrest
NEW! Casual day with members of the NBC security team in Rio.
NEW! End of an adventure: a beautiful thank you from Tara to her beloved Johnny. Truly best friends forever. ❤️
Our 2nd Olympics together ✔️ I had the greatest time this last month experiencing all things Summer Olympics…the best part is I was able to do it alongside my partner in crime and best friend. @johnnygweir I will cherish every memory we made here together. Thank you for making me laugh every single day and taking care of me as you always do. I love you with all my heart ❤️ Thank you @nbcolympics for having us a part of the team! @taraandjohnny by @taralipinski
And one last @TaraandJohnny video.
And scene…Bye Rio! @taralipinski @johnnygweir by @taraandjohnny
---
AUDIO / VIDEO
NEW! A Day in the Lives of Johnny and Tara. Johnny explains: "I appear hungover, in no makeup and in a beaver mask with @taralipinski & @JillMartin. ENJOY!"

Video link.
Screencaps! With special thanks to Elena Vasileva for her help.
With Mariola Zysk, left, and Alexis Day, his fabulously talented hair and makeup artists.
With the Today Show's Jill Martin.
Ping!
Yes, he brought his "Olympic blazer": the famous pink Chanel jacket that he wore in Sochi.
Possibly my favorite part of this piece:
Jill: What do you say to people who look at this and say: "It's the Olympics. These are crazy outfits!"
Johnny: Why not? I'm an Olympian. If anyone has earned the right to dress the way they want to at the Olympic Games, it's certainly me.
Recording their wonderful podcast! Scroll down for their latest episode.
I ❤️ them.
NEW! Backstage at Olympic Late Night in the Green Room.

Video link.
NEW! Their final appearance from Rio on Olympic Late Night with Ryan Seacrest. According to my social media feed, what this Olympics really needed was a whole lot more of Johnny and Tara. ❤

Video link.
And our final set of screencaps, with thanks once again to Elena for many of these.
NEW! Their latest Snapchat. Clearly we need an extended version of Johnny as a cowboy.

Video link.
NEW! Reunited with Uncle Terry! Note: Golf Digest absolutely loved their commentary.

Video link.
So good. So many screencaps.
NEW! Thursday's Facebook Live chat.

Video link.
In addition to their own NEW PODCAST EPISODE below, our beloved Glitter Twins were guests on Greg Wyshinski's podcast for Yahoo Sports. Their portion begins at about 7:38:
They also guested on Rudy Maxa's travel podcast. Their portion begins at about 12:21:
VIDEO: Johnny & Tara take up fencing. And then put it right back down again, despite expert instruction from Olympian Jason Pryor.

Video link.
Yes, obviously we need a few screencaps. Special thanks to the lovely Elena Vasileva for many of these!
Not suuuuuure why NBC had Johnny do this interview facing directly into the sun sans sunglasses . . . but I absolutely love his ensemble and his hair.
VIDEO: Johnny & Tara discover the world of Brazil's amazing nighttime soap operas. This is the segment that aired during their appearance with Ryan Seacrest, but we don't yet have the footage of their conversation with Ryan.

Video link.
But of course we do have screencaps.
---
BONUS PICS
With Greg Wyshinski of Yahoo Sports.
Getting ready for his appearance with Tara in primetime last Friday.
Getting Johnny Weir all set for Primetime with Bob Costas! #rio2016 by @actonstylegroup
On the air in primetime!
👆🏻Silk tuxedo gone primetime via the amazing geisha @johnnygweir #RIO #OLYMPICS #ANDREWMORRISON by @andrewmorrisonstudio
Random fan pic. Because he is always patient, gracious, and kind no matter what the hour.
It's been a bit of a night… So stinkin cool to meet him #johnnyweir #rio2016 #dreams by @daniaddums
---
NEW PODCASTS!
Tara and Johnny, Episode 6:
Johnny and Tara are as adorable, funny, refreshingly real, and zany as ever in their NBC podcast (which YES, will continue on beyond Rio). Listen, laugh, and subscribe now! Available on AudioBoom, iTunes, and Stitcher. Enjoy their latest episode right here:
And BONUS Episode 7!
---
Very special thanks to video ninja Elena Vasileva for her invaluable help!
---