Johnny with two very lucky young skaters in his official debut appearance as the first-ever Bank of America Winter Village Skating Ambassador / Ambassadress (as he calls himself in his speech below) at Bryant Park, NYC. Photo via Stuart Ramson, whose caption pleases me greatly: 'World Champion #iceskater #johnnyweir kicks off the season at the #bankofamericawintervillageatbryantpark opening ceremony.'
---
Kayso here's a ton of coverage of Johnny's inaugural outing as the first-ever Bank of America Winter Village Skating Ambassador / Ambassadress because he was brilliant and lovely and kind and all the things a Skating Ambassador should be, and I loved everything people posted, especially their descriptions of him, so I couldn't bear to cut anything so here you go. Also we have exclusive video, of both his speech and his performance, plus a zillion short clips from every conceivable angle. And we have him referred to variously as "World Champion," "Olympic Gold Medalist," "great Olympian," "spectacular and gracious," "amazing," "perfect," and, as noted in the headline, "the most beautiful figure skater in the world." I'm not sure he always understands how much he is loved and respected by people from all walks of life, so I'm thrilled whenever there's a flood of goodwill that comes his way via one of these types of events. So if you need me, I'll just be here all day, hiding from the election in this wonderful winter garden of happy with our dazzling Skating Ambassador.
Note: the astonishing amount of stuff below is arranged in roughly the order in which it happened: his rehearsal, his speech, his performance to 'Creep,' the ribbon-cutting to officially open the rink for the season, and the brief kid skating session.
---
UPDATE! New pics added below from this article, plus more!

---

REHEARSAL
Via George Franchell.
Via George Franchell.
Via Chris Black.
NEW!
We caught @johnnygweir warming up for the 5:30pm Grand Opening Ceremony of the @bryantparknyc #wintervillage! Phenomenal!! ⛸👏🏻⛸👏🏻⛸🙌🏻 by @thepodhotels
Ice skating in Midtown can make your trip to the dentist magical. #iceskating #shotoniphone7plus #nyc 💖❄️⛸🌆 by @mikellk
Amazing slow-motion clip.
❄️⛸❄️⛸ #shotoniphone7plus #nyc #iceskating by @mikellk
---
JOHNNY'S SPEECH
Some mild stalking of @johnnygweir #flawless #wintervillagebryantpark #nyc by @elisaholland
#bryantpark #iamhyattcentrictsq the rink is officially open #happywinter #johnnyweir by @dreaowen913
VIDEO!

Johnny's speech! Exclusive video thanks to Jenn Kittler.
Video link.
---
'CREEP' PERFORMANCE
PHOTOS
And so it begins #wintervillage @bryantparknyc @johnnygweir #iceskating #nyc #newyork #happy by @poopiej
That black almost a cloud like motion in the middle is actually an Olympian ice skating ⛸⛸⛸ . . . #bryantpark #iceskating #openingceremony #olympiandancing #johnnyweir by @hinali17
NEW!
A shot of @johnnygweir from the press box at the opening of @bryantparknyc Winter Village last night! Beautiful performance! #bryantpark #johnnyweir #bryantparkwintervillage #bankofamerica #figureskating #olympian #skateambassadress by @kccioffi
Post-work field trip to see @johnnygweir, followed by way too much free food. Eighteen year old me was very excited #hashbrownnofilter #bryantpark #wintervillagebryantpark #johnnyweir #figureskating #nyc by @rachelbbbbb
The perks of living in NYC as told by Olympic Gold Medalist @johnnygweir by @_kapes
What a treat to see @johnnygweir skate tonight! ⛸❄️✨ by @theincrdblhulse
Johnny Weir skating at the opening of Bryant Park's Winter Village. by @glennrubenstein
@JohnnyGWeir @bryantparknyc 11.1.2016 👏😊💜 (as b4, 'Creep' by radiohead my fav, bt ths version 👍 esp w/JWG interpretation 👌) by @ de0anima
Johnny @johnnygweir i missed you so much 💙 #bryantpark #johnnyweir #ilovefigureskating by @smeysa
Любите ли вы Джонни Вейра так, как люблю его я? :) by @dirty.tu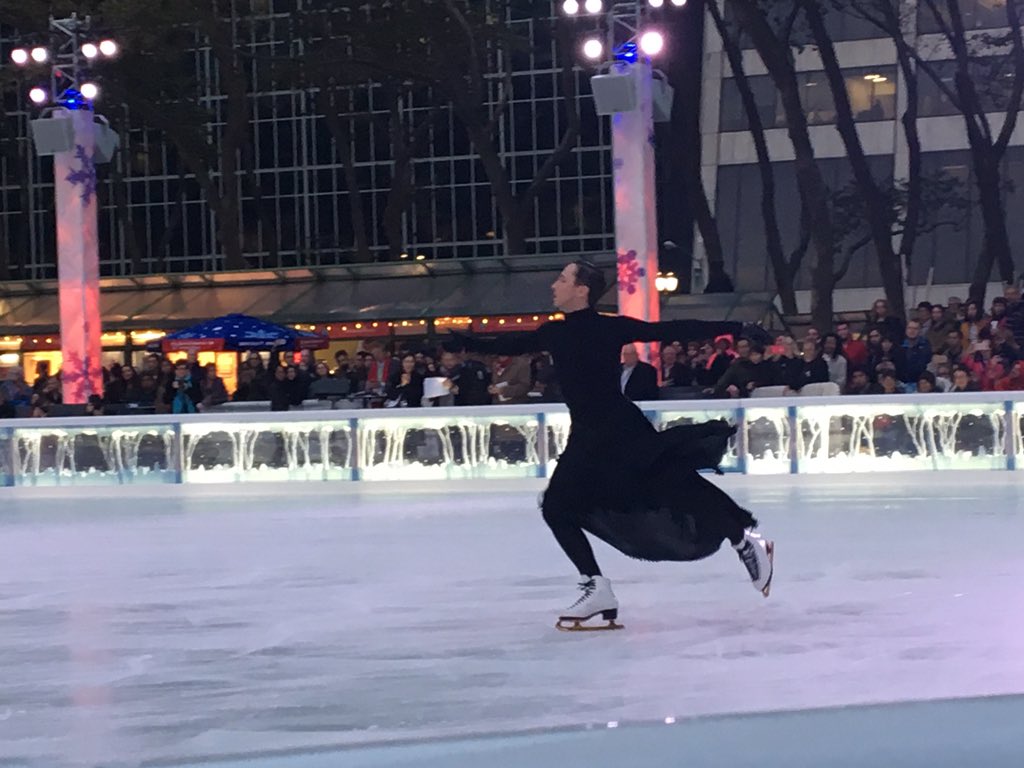 Johnny weir was perfect and I lm so happy by @elvendorks
NEW!
#bryantparknyc #bryantpark #iceskating #wintervillage #skating #manhattan #nycphotographer #nyc #nikon #nikonphotography #nikonphoto #nikonworld #blackandwhite #blackandwhitephotography #sigmaphoto #sigma70200f28 #newyorkcity #photography #photooftheday #portrait #nikond600pic #photographylovers #photographyislifee #figureskating by @marcus_beasley_photography
CLIPS
always SUCH a pleasure to see @JohnnyGWeir skate. #wintervillage by @bydaysbreak
Enjoy a minute of the great Olympian @JohnnyGWeir at the opening of @BankofAmerica #wintervillage @bryantparknyc by @JeffBarkerNY
Just #johnnyweir in a sensible black rehearsal skirt. Love him and moments like this in #nyc #creep by @effingtrackerjacker
#surprise #2016 #bryantpark #winter #wintervillage #skating #johnnyweir Came across this grand opening for BOA winter village, so glad to see his performance⛸⛸⛸❄️❄️❄️ by @missmangomo
Opening day at Bryant Park Winter Village with Johnny Weir by @allie_wallie2
So happy that I got to see Johnny Weir skate at Bryant Park tonight! by @rinlins
#wintervillagebryantpark by @lucilenec38
Johnny Weir performing as the official ambassador for Bryant Park skate rink. by @explosionlimit
He is the most beautiful figure skater in the world. I looooove him so much💖💖💖 #bryantpark #iceskating #johnnygweir #amazing #love❤️ #nyc #newyork #ニューヨーク by @hanpenn55
プロのアイススケート選手がセレモニーで初滑りしてたんだけど、イケメンすぎた👼🏻#johnnyweir #bryantpark #iceskating #wintervillage by @mu301
Johnny Weir performing in Bryant park. This was amazing by @schmeagers
#bryantparkiceskating #grandopening #⛸ #💝 #👑 #awesome #☻ #Johnnyweir #usa #🇺🇸 by @bk_moon
NEW!
And one more from the man himself:
Heaven is NYC+@kimnicky+Skirt+Ice. Thank you @bryantparknyc and @bankofamerica for these wonderful moments in my life. 📽@xstagee by @johnnygweir
VIDEO!

Johnny's complete performance. Exclusive video thanks again to Jenn Kittler!
Video link.

Alternate angle.
Video link.
And the complete event prior to the ribbon cutting from yet another angle, via CurbedNY. Johnny is introduced beginning at about 0:33 and gives his speech at about 2:03. Team Image Synchronized Skating performs at about 3:17, and Johnny performs "Creep' at about 8:40.
---
RIBBON-CUTTING CEREMONY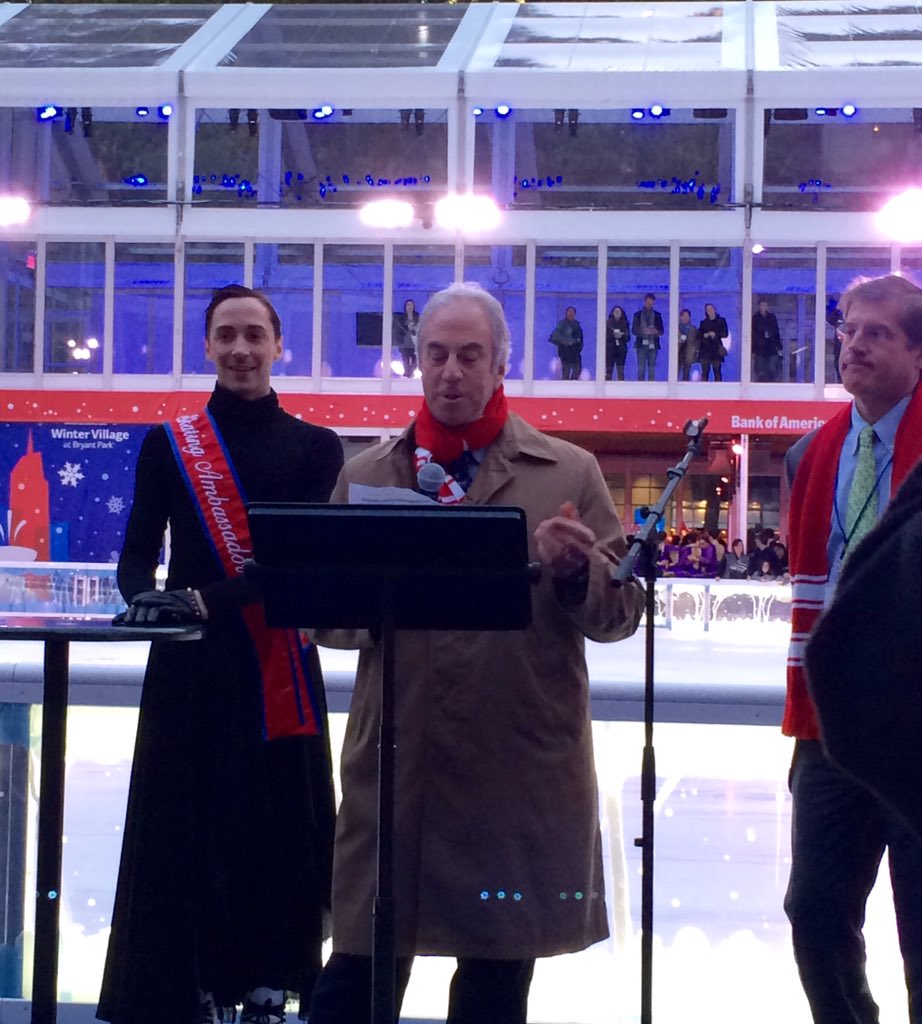 I'm just gonna say it, @JohnnyGWeir is a national treasure. by @thechangeu12c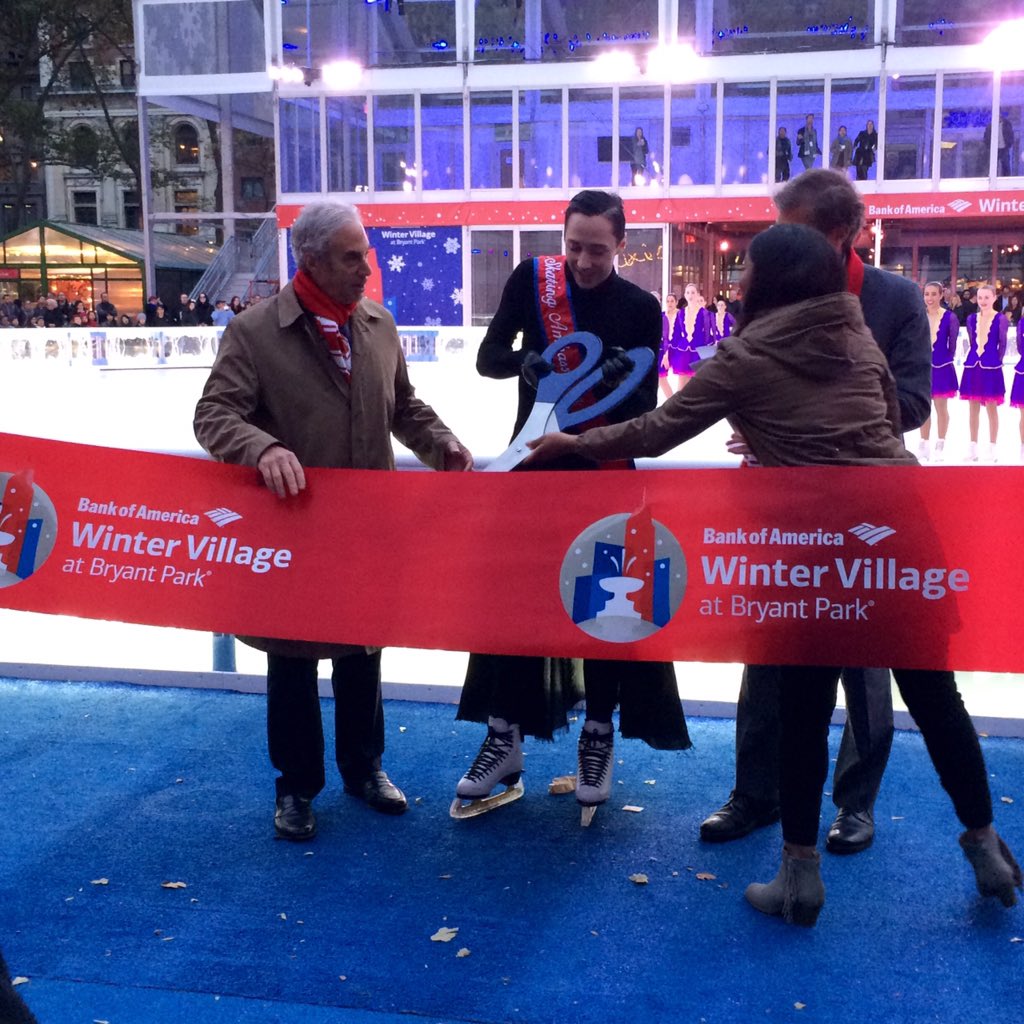 And the Bank of America Winter Village at @bryantparknyc is now open! Big thank you to Skating Ambassador, @johnnygweir for joining us and kicking off the evening. (Stuart Ramson / AP Images for Bank of America) by @ttcgram
Grand opening performance & ribbon cutting at #LUMANYC's neighbors, the #wintervillage at #bryantpark, with #SkatingAmbassador @johnnygweir! Thanks to @bankofamerica for making #NewYorkCity's only FREE #iceskating rink possible! Enjoy eats, ice & shops! 🎥 courtesy of @bryantparknyc #⛸ #❄️ #LUMANYC #💡🌃🍎 #nyc #newyork #winter #holiday #midtown by @lumahoteltimessquare
Via Irving Ezzy Larios.
---
SELFIES / SKATING WITH KIDS
As always, everyone wants a pic with Johnny.
Grand opening with our favorite, the incomparable @johnnygweir! #wintervillage ❄️⛄️ #todayinbryantpark #winteriscoming #skate #nyc by @nina10003
First skate of the season, opening of the ice rink, no video of The Official Johnny G. Weir because he did something to my phone, my guess is that my phone couldn't take his mojo. by @Irving Ezzy Larios
Got so lucky to meet Johnny Weir at the opening of Bryant Park Ice Rink!!! by @ice_skater_jackie
Johnny Weirの演技をこんな近くで観れるなんて、NY来てよかった✨ #johnnyweir #bryantpark #nyc #manhattan #figureskating #ニューヨーク #感動した #美しかった #ジョニーウィアー by @emitks
@johnnygweir at #wintervillage in Bryant Park. Spectacular and gracious! by @asyablue
After the ribbon-cutting ceremony, our two lucky young skaters from the lead photo above got to skate around the rink with Johnny.
Exclusive photo courtesy of Jenn Kittler.
Exclusive photo courtesy of Jenn Kittler.
Exclusive photo courtesy of Jenn Kittler.
Exclusive photo courtesy of Jenn Kittler.
Exclusive photo courtesy of Jenn Kittler.
Beautiful, as always! You are the best! by @thebettycollection
With the Team Image synchro skaters.
Fantastic performance by @johnnygweir at the Bank of America Winter Village opening at @bryantparknyc. ⛸ by @ttcgram
And at the end of the evening, The Honorable Ambassador / Ambassadress posted a shot of the Winter Village from an amazing vantage point.
What a wonderful time tonight at my favorite place to skate in New York, @bryantparknyc by @johnnygweir
---
BONUS PIC
The only election post I've enjoyed for months. Also this was geotagged "Downtown Chicago State Street." If anyone knows their way around an election, it would be my city.
---